Energoblog
Optimální vytápění domů s nízkou spotřebou
Stále více stavebníků si uvědomuje, že stavět dům s vysokou spotřebou energií není prozíravé. Jestliže někdo staví dům, aby nemusel již nikomu platit nájemné, měl by se zabývat i tím, kolik bude platit za energie. Málokdo si uvědomuje, že byt v bytovém domě má vždy nižší spotřebu než stejně velký byt v rodinném domku. Je to jednoduché: byt ztrácí teplo jen jednou až třemi venkovními stěnami, zatímco rodinný dům ztrácí teplo nejen celou plochou venkovních stěn, ale i podlahou a střechou. Energetické nároky samostatně stojících rodinných domků jsou proto výrazně vyšší.
Stavby tzv. pasivních budov s roční spotřebou tepla na vytápění menší než 15 kWh/m2 se pomalu stávají standardem. Zkušenosti ukazují, že vícenáklady na takovouto budovu nemusí být vyšší než 10 %. Při dobrém architektonickém a konstrukčním řešení mohou být dokonce obdobné jako u "konvenčních" domů. U nás se zatím častěji setkáme s domy v kategorii nízkoenergetických, kde je spotřeba menší než 50 kWh/m2.rok. To je stále ještě slušné v porovnání s domy, které jsou stavěny jen podle požadavků normy.
Díky nové legislativě budou domy mít v budoucnu "průkaz energetické náročnosti". Ten podobně jako energetický štítek na ledničce v prodejně řekne kupujícímu, kolik dům protopí. Zejména u developersky stavěných budov je to důležité, protože stavitele samozřejmě nezajímají budoucí náklady nových vlastníků a logicky se snaží postavit dům co nejlevněji.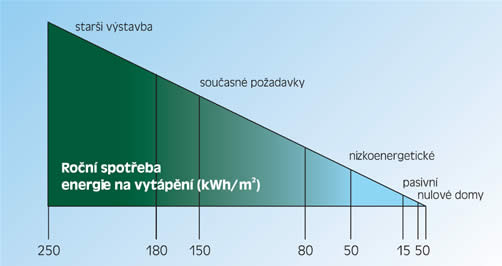 Škála energetické náročnosti domů
Stavebník však obvykle nesleduje, aby jeho dům splňoval nějaké číselné kritérium podle složitého výpočtu, ale aby za energie v domě neplatil příliš mnoho. Jednoduchý předpoklad nízká spotřeba = nízké náklady kupodivu neplatí vždy a všude. Ceny paliv jsou různé, takže nový, energeticky úsporný dům vytápěný kapalným propanem může mít dražší provoz než sousední, starý a nezateplený dům, kde se topí laciným hnědým uhlím.
V domě je však potřeba nejen teplo na vytápění a pro ohřev vody, ale i elektřina. Přitom spotřeba elektřiny v domácnostech stále roste - spotřebiče jsou sice úspornější, ale je jich stále více. Volba zdroje tepla má vliv i na cenu elektřiny. Ten, kdo elektřinou topí (event. ohřívá vodu), ji má levnější. Podle druhu topení má k dispozici několik hodin denně levnou elektřinu v nízkém tarifu. "Noční proud" je u sazeb pro tepelná čerpadla 22 hodin denně, u přímotopných sazeb 20 hodin denně (u akumulačních a kombinovaných sazeb je to jen 8 nebo 16 hodin). To znamená, že kromě topení i veškeré ostatní spotřebiče v domě používají většinu času levnou elektřinu. Ceny jsou okolo 1,60 Kč/kWh. Naproti tomu sazby pro domácnosti bez elektrického vytápění stojí kilowatthodina okolo 3,50 Kč/kWh (podle dodavatele).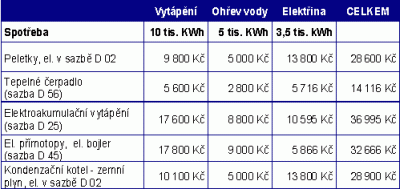 Srovnání nákladů na energie podle typu vytápění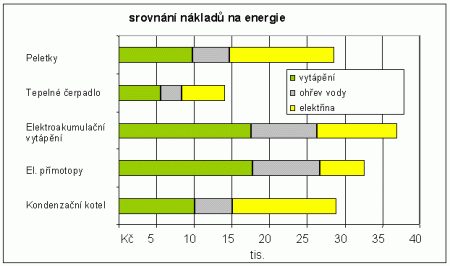 Graf: Srovnání nákladů na energie podle typu vytápění
Domy s nízkou spotřebou (a tím i malou tepelnou ztrátou) se paradoxně potýkají s problémem volby zdroje tepla. Trh většinou nabízí kotle a topidla o výkonu od 10 kW, zatímco tepelná ztráta dobře izolovaného domu je poloviční. Navíc jsou tyto zdroje relativně drahé - kotle o výkonu 10 a 50 kW stojí zhruba stejně, ale náklady na instalovaný kW výkonu jsou u menšího pětkrát vyšší.
Při porovnávání různých možností je samozřejmě třeba zhodnotit i investiční náklady. Ty samozřejmě závisí i na požadavku komfortu provozu. Kdo by dnes chtěl mít doma piliňáky, i když je provoz téměř zadarmo a pořizovací náklady nepatrné?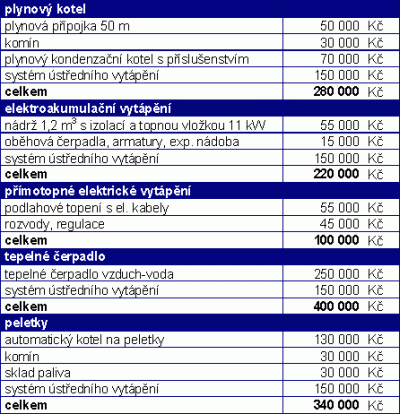 Srovnání investičních nákladů
Pro někoho je v domě nezbytností bazén, pro jiného garáž a pro někoho zase nízká zátěž životního prostředí. Proto je vhodné podívat se na různé zdroje energií i z ekologického hlediska. Pokud porovnáme spotřebu primárních energií a emise, zjistíme že zdaleka nejvýhodnějším řešením jsou peletky (nebo jiné dřevo) a nejméně vhodné je topení elektřinou.
Na otázku, čím je nejlepší topit, není jednoznačná odpověď. Při rozhodování je třeba zvážit nejen pořizovací náklady, ale i provozní náklady na vytápění, ohřev vody a elektřinu pro domácnost. Můžeme zvážit i vliv na životní prostředí. Jsou i další pohledy - riziko růstu cen, bezpečnost a spolehlivost dodávek, komfort atd. atd. Důležité je, aby se v domě konec dobře bydlelo.
Článek byl napsán pro časopis Stavitel.
Přidat názor
Diskuse