Energoblog
Veřejné budovy: sledovat pouze investiční náklady se nevyplácí
V jisté obci zrekonstruovali školu. Nová fasáda září do okolí a starostu každý chválil. Pak ale přišly účty za energie. A byly vyšší než před rekonstrukcí! Starosta ve snaze ušetřit, přinutil projektanta, aby porušil normu a starou cihlovou zeď nezateplil. Okna jsou sice nová, ale moc dobře neizolují a nové kotle mají nízkou účinnost. Budova nesplňuje požadavky vyhlášky a stavební úřad ji proto neměl vůbec povolit, ale stalo se.
Pokaždé to jistě nemusí dopadnout tak dramaticky. Nicméně platí, že sledovat při stavbě či rekonstrukci pouze investiční náklady není nevhodnější cesta. Vždy se vyplatí zvážit, zda o něco vyšší investice nepřinese budoucí úspory provozních nákladů, ve kterých se vrátí.
Lze spoléhat na předpisy?
Současné předpisy v oblasti energetické náročnosti budov se bohužel zabývají pouze konstrukcemi budovy a zcela opomíjí způsob větrání, vytápění a přípravy teplé vody, chlazení a spotřebu elektřiny na provoz budovy. Přitom, chceme-li dosáhnout levného provozu, jsou tyto položky neopominutelné.
Problematiku dostatečně neřeší ani nedávno novelizovaný zákon o hospodaření energií, který požaduje, aby budova splnila určitou hodnotu měrné spotřeby tepla na vytápění a další energetické ukazatele. Kamenem úrazu zůstávají zejména postupy, kterými se spotřeby stanovují. Tyto výpočtové hodnoty totiž neodrážejí skutečné podmínky při provozu, jako například klimatická specifika (dům na horách bude mít vyšší spotřebu než stejný dům na Znojemsku). Čísla spotřeby také přímo neřeknou náklady na provoz – ty se liší podle druhu energie.
Užitečným nástrojem se může stát tzv. průkaz energetické náročnosti budovy, který bude pro většinu budov povinný od roku 2009. Záležet bude ale opět na zadavateli, s jakou důležitostí k úspornosti budovy přistoupí.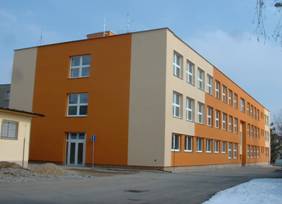 Administrativní budova po rekonstrukci, spotřeba tepla klesla o 60 %.
Kdo je na straně investora?
Projektanta náklady na budoucí provoz budovy zpravidla příliš nezajímají – obvykle hledá nejjednodušší nebo nejelegantnější řešení, nikoli řešení dlouhodobě efektivní. Pokud to investor výslovně nežádá, projektant spotřeby energií a další provozní náklady nevyčíslí. Na straně investora ovšem často nejsou ani jeho vlastní lidé – čím větší organizace, tím spíše se odpovědný pracovník o budoucí provozní náklady nestará, zvláště když jsou starostí jiného odboru či dokonce organizace.
Řešením může být buď volba kvalitního architekta či projektanta, a nebo služba nezávislého specialisty – například energetického auditora, který projekt z tohoto hlediska posoudí. Důležitá je jeho nezávislost – posuzovatel by neměl projekt poškodit z konkurenčních důvodů, ani by neměl do projektu uplatňovat výrobky a řešení, které "shodou okolností" sám také dodává. Měl by také navrhnout více variant řešení, z nichž si může investor vybrat tu, která mu nejvíce vyhovuje. A nutně to nemusí být ta, s nejnižší spotřebou energie – přihlédnout je třeba také k době návratnosti.
Jak zadávat zakázky?
Hlavním předpokladem je dobře formulované zadání s požadavkem na vyčíslení budoucích spotřeb energií, popřípadě i provozních nákladů. Vyhodnocení takovýchto nabídek je samozřejmě složitější, nepochybně se ale vyplatí.
Problematikou zabývá publikace Nízkoenergetické stavění veřejných budov, která je volně ke stažení na www.ekowatt.cz .
Článek byl napsán pro časopis Moderní obec .
Přidat názor
Diskuse